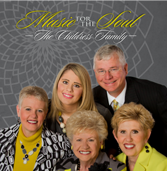 Our latest project, "Music for the Soul" has arrived! We are excited about sharing this new project with all of you.
Music has a way of moving the soul, oftentimes when nothing else can. It has the power to reach deep within and stir our emotions, feelings and memories. However, music is more than just an expression of our emotions, thoughts and beliefs but also an avenue through which we can travel in order to send up our love, adoration and praise to our Savior. Paul encouraged us to "be filled with the spirit, addressing one another in psalms, hymns and spiritual songs, singing and making melody to the Lord with your heart."
Click on the Gospel Music Extravaganza link for more information.